June is Men's Health Month! Please use this toolkit to help spread the word during this critical health awareness period. To stay updated on the latest activities follow and like the Men's Health Month Twitter and Facebook accounts.
Sample social media posts can be found here or download the toolkit.
Don't forget the #MensHealthMonth and #ShowUsYourBlue hashtags!
Social media images to use can be found here
These images can be used as attachments for Twitter, Facebook, and other social media posts.
 
Facebook and Twitter cover photos can found here
Show your support of the month by using one of these images as your Facebook or Twitter cover image.
Men's Health Month web banners can be found here
If you don't have a social media account or would prefer to post directly on your website you can use one of these web banners.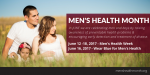 Write a blog for Men's Health Month!
We have listed several topic ideas and key statistics that can be used for a blog post.
General Topic Ideas for Men's Health Month Blog.
Governors and mayors issue proclamations recognizing National Men's Health Week (NMHW), a special awareness period recognized by Congress. This year NMHW will be June 12th – June 18th.
State and local proclamations can be viewed here: http://www.menshealthmonth.org/week/proclamation.html
Currently, men are dying an average of 5 years younger than women and lead 9 out of 10 of the top causes of death.
Men are at greater risk for death in every age group. More males than females are born (105 vs 100), but by age 35, women outnumber men.
Men have a higher suicide death rate than women. Men account for 92% of fatal workplace injuries.
Men do not see physicians for a physical exam nearly as often as women and men are more likely to be uninsured than women.
There has been progress over the last 20 years since Congress recognized National Men's Health Week, supported by the Men's Health Caucus in Congress and the APHA Men's Health Caucus.
http://www.menshealthnetwork.org/library/mens-health-progress-1994-2014.pdf
Men's Health Month website – www.menshealthmonth.org
State of Men's Health website – which has individual state reports that supply statistics for age adjusted death rates for the top causes of death and other men's health statistics.
stateofmenshealth.com
Top causes of death – http://www.menshealthnetwork.org/library/causesofdeath.pdf
Key health indicators – http://www.menshealthnetwork.org/library/healthindicators.pdf
Health Facts – A detailed list of health reports.
http://www.menshealthnetwork.org/healthfact